Interactive map of meeting locations:

meeting location &nbsp

hotel
(click for a larger meeting map)
Travel Information
The meeting will be held at the Bloomberg Center for Physics and Astronomy, on the Homewood Campus of Johns Hopkins University in Baltimore, Maryland, USA. General travel information for visitors to Johns Hopkins is available on the JHU visitor information page.
Hotel Information
IMPORTANT UPDATE: All rooms at the Inn at the Colonnade have sold out for Tuesday night. Rooms are available for the entire meeting period at the other conference hotel, the Radisson at Cross Keys. A discounted rate of $119 per night is available by calling the hotel's reservations desk at 800-967-9033. Ask for the "Hopkins" rate.
See the Local Information page for more information, including a room share list.
Visa Information
If you need a visa to visit the United States, email the conference organizers (sdss3meeting -at- jhu.edu) to request an invitation letter. We will respond within 48 hours with more information.
Getting There
By Air
The nearest airport to the meeting is Thurgood Marshall Baltimore Washington International airport (BWI), about a half-hour drive to the south (45 minutes during rush hour). Taxi fare from the airport to the hotel or the university is about $45.
The only direct international flights into Baltimore are from London Gatwick on British Airways and Toronto on Air Canada. Other nearby international airports are Philadelphia (PHL) and Washington Dulles (IAD), both about two hours away by car.
Map of airport and train station locations (opens in a new window)
By Train
Direct train service is available from the Northeast Corridor on Amtrak into Baltimore's Pennsylvania Station. On weekdays, a commuter train runs between Penn Station and Washington's Union Station in for $7 one way.
Taxi fare from Penn Station to the hotel or the university is about $10.
Ride Share List
The SDSS-III wiki has a ride share list for coordinating rides from airports and train stations to the meeting locations and hotels.
Driving Directions
Parking
Overnight parking is available at the Inn at the Colonnade for $20 per night. The Radisson at Cross Keys has free 24-hour parking.
Daytime parking is available at the JHU San Martin Garage, across the street from Bloomberg Hall, for $9 per day.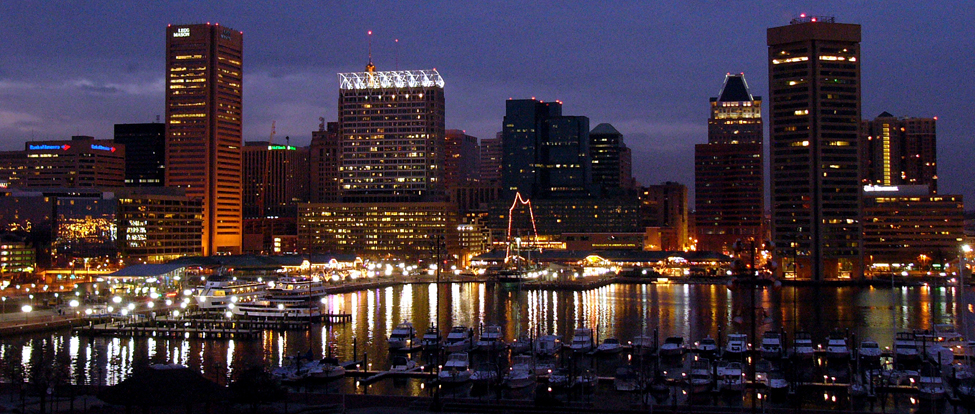 Baltimore's famous Inner Harbor is a short taxi ride from the meeting hotel (Image from Tyler Conklin
on Flickr)